Food Safe Packaging
Product Details
50ml sustainable cosmetic packaging jar wholesale:
Sustainable cosmetic packaging concept:
original ecological, natural and healthy.

Eco friendly skincare packaging material and craft:
this skincare jar is made of original ecological plant base fiber and natural plant base polymer mixture. Cosmetic jar can become soil/water/air after disposal.In order to propaganda your brand and skincare products, we are also able to custom printed your own logo/product message on eco friendly cosmetic containers.

Sustainable Cosmetic Packaging Containers Advantage: Thanks to edible natural plant base polymer and fiber mixture high-technology application, your skincare ingredient safety can be guaranteed. Most important, original ecological appearance enhance natural and healthy cosmetic functions. Meanwhile, during your target clients are enjoying your natural and health skincare products, you can also win their respects due to eco friendly cosmetic containers packaging will become environmental protectors.

Cosmetic Containers Volume range: this sustainable cosmetic packaging jar volume is 50ml. In order to keep your original ecological skincare packaging style, we can also provide 15ml jar, 30ml cosmetic jar, 100ml skincare jar, etc.

One Stop Service: Pi Sustainable Packaging Company is a leading custom cosmetic packaging supplier in China. We are not able to custom sustainable cosmetic packaging containers, but also custom cosmetic packaging boxes. Both cosmetic jar and packaging boxes can all achieve luxury display via eco friendly packaging design concept. Here are cylinder eco friendly cosmetic packaging boxes for your reference: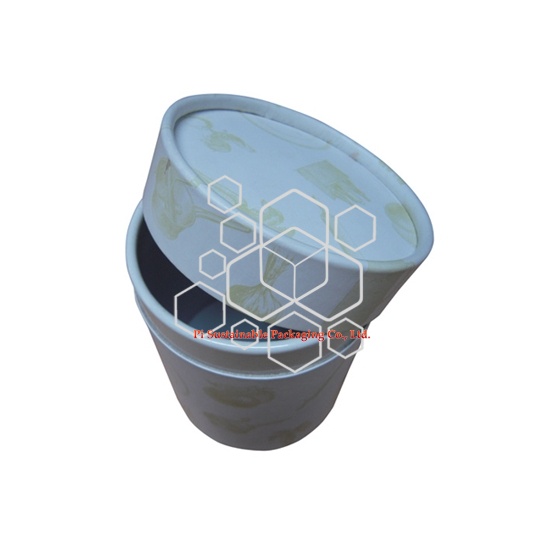 In a result, your brand can enjoy original ecological brand image building when you purchase our custom cosmetic packaging boxes and containers. You can also enjoy luxury brand image building. Your target clients are also willing to pay more to buy your skincare.