Cosmetic Boxes And Containers
Product Details
250ml eco friendly Custom cosmetic skincare packaging lotion pump sanitizer bottles supplies with luxury bamboo cap
MOQ:10000pcs;
Cosmetic Packaging Design concept:
Eco Friendly Cosmetic Packaging Desgin concept is achieved by original ecological plant base polymer.
Material and craft:
Different from traditional Plastic Lotion Bottles as following image: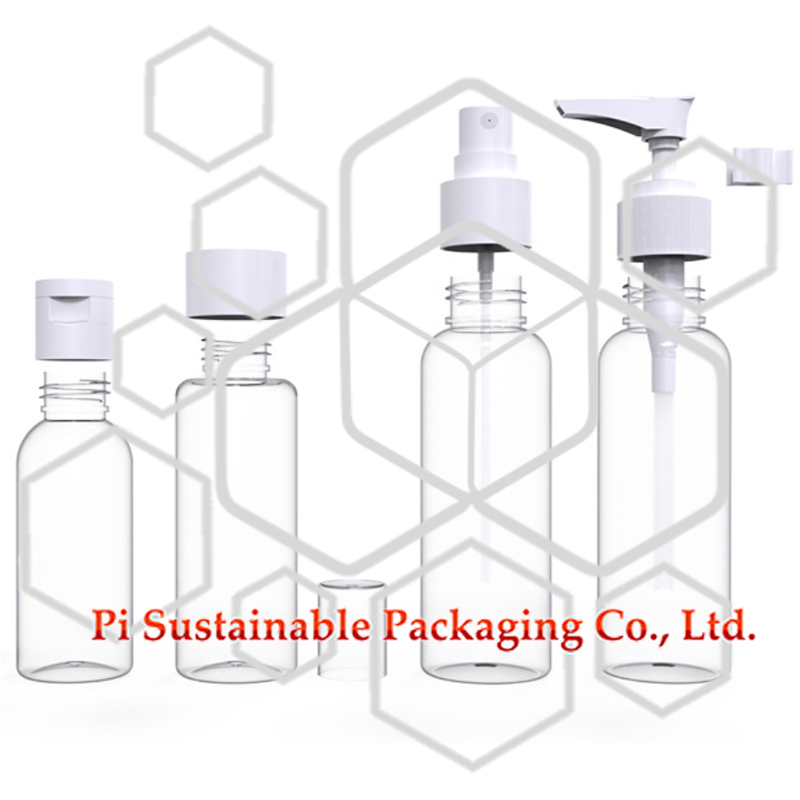 Custom Lotion Bottles body is made of original ecological plant base polymer.In a result, Eco friendly Cosmetic Bottles body can become soil/water/air after disposal completely. Original ecological plant base material will become guardian to keep your cosmetic skincare content be hygeian, meanwhile, Sustainable Pump Bottles body will also help you win environmental friendly brand reputation. The pump of bottles have to be made of traditional plastic so far. Bamboo Pump Bottles cap tag green and luxury elements on your brand.You are allowed to Custom Printed Cosmetic Packaging Bottles with your own logo and company message etc as per your specific requirement. It is helpful for you to promote your brand and show your profession capability in cosmetic industry.Of cause, we can also engrave your logo on bamboo cap.
Custom Cosmetic Packaging Solutions:
this is 250ml Lotion Pump Bottles, our Eco Friendly Cosmetic Bottles series volume range is very wide: from 30ml Spray Bottles and 50ml or 100ml Pump Bottles to 250ml and 450ml Lotion Bottles. You can find images as below: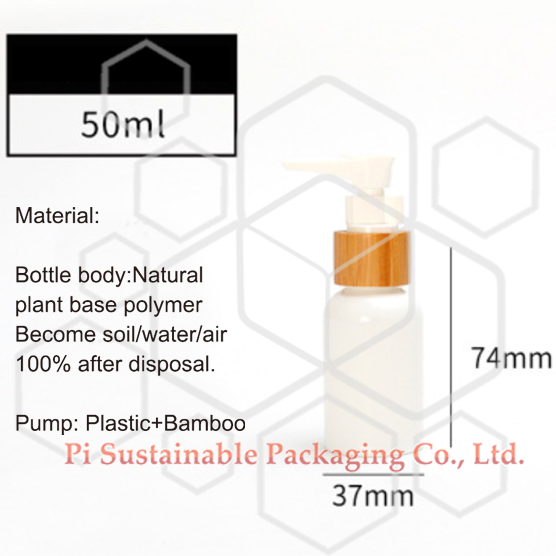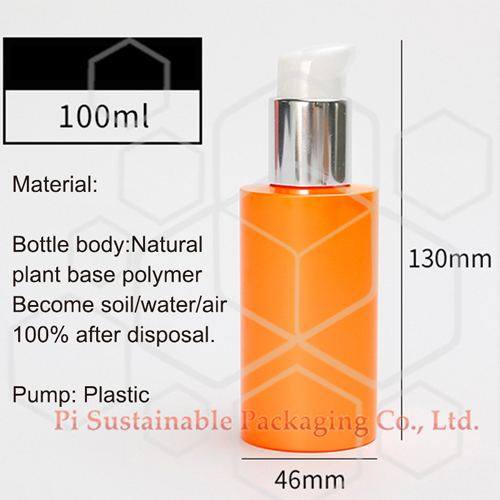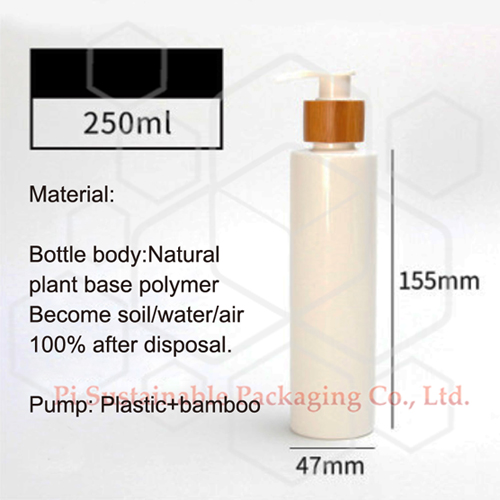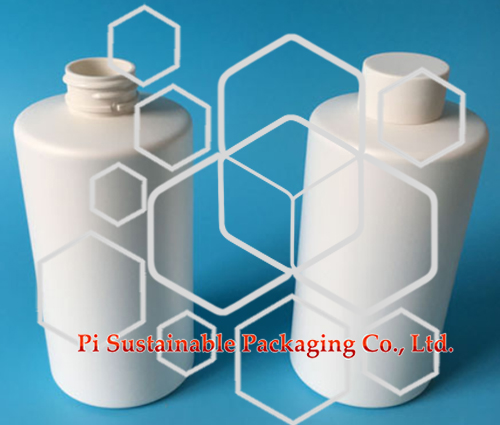 Additionally, thanks to our Custom Cosmetic Packaging solutions , these Cosemtic Bottles can be applied to
Mouthwash Bottles
because we can provide metal cap covered by bamboo or wooden as luxury and green decoration, we can also change the dispenser Pump to
Sprayer Bottles
, in a result,
Sustainable Perfume Spray Bottles
will magnify green and healthy value to your perfume brand.Here is the image shown you bamboo
Glass Sprayer Perfume Bottles
: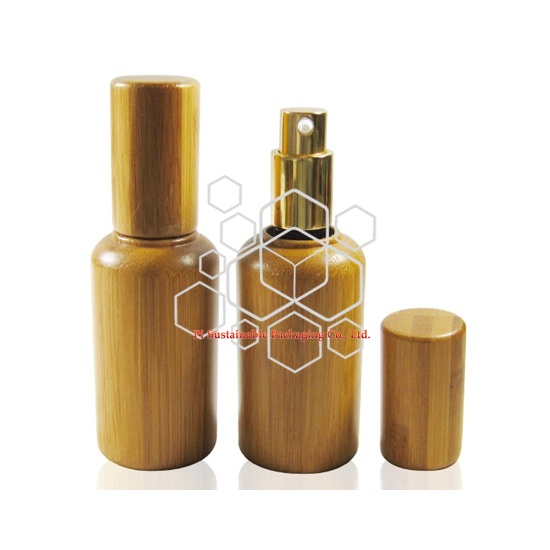 Besides for volume and pump custom solutions, our custom cosmetic packaging solutions also embody multiple
Eco Friendly Cosmetic Packaging
materials selection. For example, if your financial budget is not enough to cover this kind of sustainable cosmetic bottles which will become soil/water/air completely, you can select more cost-effective solutions. You can find partly sustainable skincare packaging bottles and containers as below: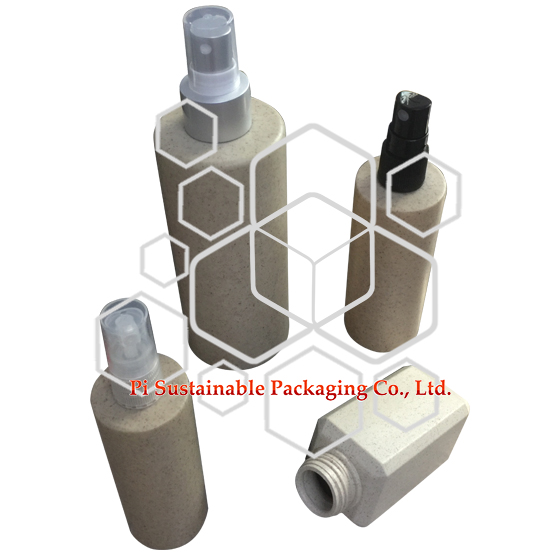 Application:
Thanks to wide range of cap and volumes selection, these cosmetic bottles can be filled with perfume, skincare cream,haircare,lotion, disinfector,etc. They will not only play role of Cosmetic Containers,but also embassador of environment protection. In a result, you can enjoy responsible brand reputation and win public audience's favor.
Added value:
Pi sustainable Packaging Company is a leading Eco Friendly
Cosmetic Packaging Suppliers
in China. Our business range cover from Cosmetic Bottles and Containers, to
Cosmetic Packaging Boxes
, from graphic design to model shape design for
Cosmetic Containers
and structure design for Packaging Boxes, etc. Multiple
Sustainable Cosmetic Packaging
material selection as well as wide volume range and various bottles shapes can meet different clients' ecological friendly demand. All of these form our one stop service to make you enjoy peaceful sleep.
Related Products
Custom eco friendly cosmetic...

100% biodegradable and compostable, edible natural plant base polymer ensure cosmetic contents...

Bamboo eco friendly cosmetic... luxury cosmetic packaging | eco friendly cosmetic packaging | concepts are achieved by original...
Bamboo eco friendly cosmetic... luxury cosmetic packaging display is wrapped by original ecological...