Sustainable food packaging companies supply foldable rigid gift boxes sustainable and innovatively
Jan 25,2021 | Views: 213
Sustainable packaging can be achieved by many methods, not only by eco friendly packaging material application, such as pure wooden pulp paper, original ecological wooden or bamboo and so on, but also can custom made packaging gift boxes be lighter and re-usable and multiple functions.
Lighter custom wine packaging gift boxes means wine packaging material consumption will be less than the normal level, then it will reduce our earth resource consumption. This is one direction of achieve sustainable packaging concept.
Normally speaking, secondary packaging will be disposal after the end consumers unpack the products inside. In order to reduce the luxury packaging material consumption, if we are able to make luxury packaging gift boxes be reusable, then we will reduce the natural resource consumption per GDP. Here is image ofcollapsible rigid food packaging boxes. This excellent example show you how sustainable food packaging companies achieve sustainable design concept: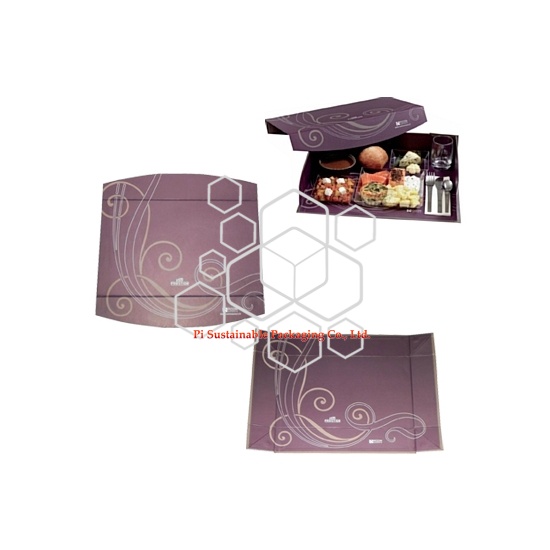 In the above pictures, after your gourmet lovers open custom luxury innovative lunch packaging boxes, and enjoy their gourmet, foldable rigid food gift packaging boxes can be reusable after cleaning. So the catering packaging cost can be saved partly.Most important, during transportation storage, gourmet brand can flat pack this luxury box, in a result, storage cost and transportation cost will be reduced dramactically. Meanwhile, you can still display your gourment in luxury way in front of your clients, enjoy luxury brand image building.

Prev: Custom Sustainable electronic mobile phone packaging gift boxes design appreciation
Next: Inquiry of eco friendly tableware from clients