Sephora collapsible custom cosmetic packaging boxes offer great opportunity to end consumers to play
Nov 25,2020 | Views: 176
As per the HARVARD marketing theory, leading your potential clients to playing together with you on your products or service or company is a most effective way to achieve business agreement, as playing include a lot of activity, which involve interactive emotion express. During the playing, you can also detect the preference of your potential clients, the aspect which your potential client is not satisfied with you, which aspect you need to improve next time during your cosmetic development and research and so on. You can lead the dissatisfied clients to your advantage and trigger them to purchase your cosmetic. Playing is also a key factor to form a fantastic shopping experience, it will make your potential clients be willing to pay more money to buy your cosmetic too.
So far, you understand how important playing will be during marketing. Then how to make playing happen at your sales spot is the most important point for cosmetic brands and companies. The cosmetic packaging designers from Pi sustainable packaging company will provide some tips with you here. First of all, you have to offer some trial cosmetic packaging to your customers, of cause, such kind of trial cosmetic packaging must be in high quality and the function must be obvious which can be detected immediately at the sales spot. Meanwhile, you can ask your custom cosmetic packaging gift boxes suppliers to offer you innovative cosmetic packaging solutions, which will attract your buyers to play the custom luxury cosmetic packaging gift boxes. Here is the picture shown Sephora collapsible custom cosmetic packaging boxes for your reference: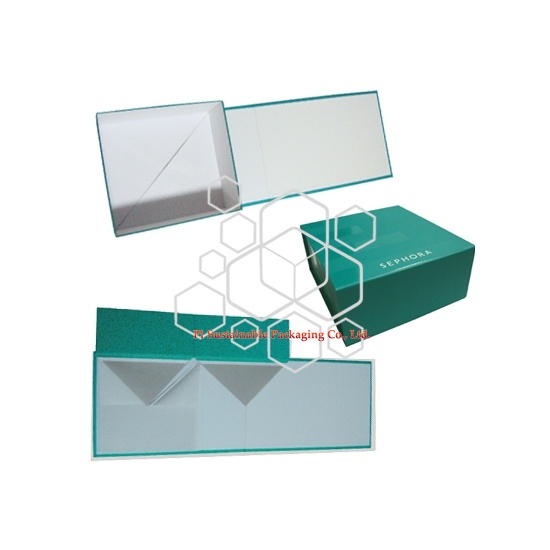 As per the pictures above, custom collapsible cosmetic printed packaging boxes are very friendly for your end consumers to play, they can pop up cosmetic gift boxes and make it change to luxury rigid packaging boxes, additionally, your consumers can also make it flat. It is very fun for them to play. When they play your innovative custom luxury cosmetic packaging boxes design supplies, then they are falling into love of your cosmetic, they are not able to refuse your cosmetic as the innovative cosmetic packaging design has been transferring the innovative image to them, then the innovative image will lead them to imagine how fantastic function your cosmetic product will bring to them.
Prev: Luxury large cosmetic packaging gift boxes with lids supplies need to comply with small and eco friendly packaging megatrend in beauty industry
Next: Inquiry of food packaging boxes from clients