Johnie walker blue label personalised large wine gift boxes | case analysis
Nov 20,2014 | Views: 167
Johnie walker is the most famous wine brand all over the world. Maybe you were impressive on delicious taste of wine and their luxury packaging. Let's discuss how to upgrade their wine product packaging quality level and then make end-consumers pass on the feeling of high quality wine packaging boxes to their wine.
First of all, wine packaging boxes structure is one of important factor to demonstrate the luxury quality. In this blue label personalised large wine gift boxes in following picture, natural element is mixed into wine packaging design: clamshell structure, which we consider not only protective packaging, but also display function: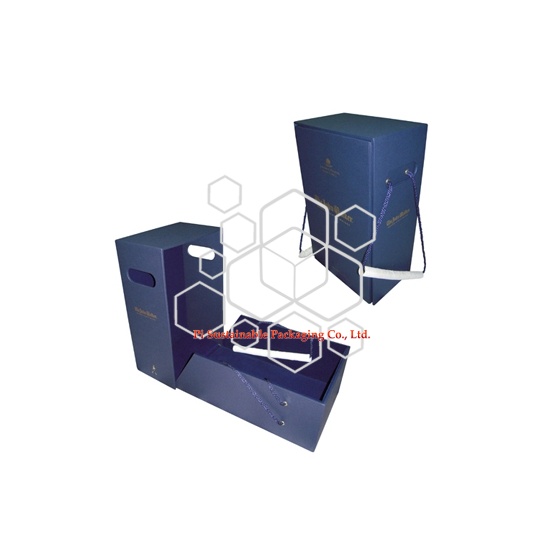 Natural and original ecological structure make end consumers dream of natural and healthy wine taste.
Secondly, maybe you are moved by the luxury packaging paper application special blue fancy paper. Meanwhile, it also reminds you eco-friendly packaging concept as the sustainable appearance without any lamination or oil base varnish surface processing.
Finally, as per the handmade craft of custom wine product packaging boxes, the handmade craft is very elegant in this bespoke rigid box, the shape is very neat and clean, without any glue dirty and you can not detect any grey board outside.
Prev: Global paper product packaging boxes forecasts in 2020
Next: Works appreciation of Handmade luxury jewelry display boxes