How to make your luxury packaging be eco friendly packaging?
Jan 04,2015 | Views: 239
How often do you consider a product packaging when you shop for something, whether it's a bottle of wine or a new tech gadget? I'm not talking about the pretty design of product packaging boxes or wrapping paper. I'm talking about goods that are distinguished by their green packaging.

An article in the Los Angeles Timessuggests that more and more consumers take a product packaging into consideration when they shop. According to the story, "36 percent of shoppers in 2011 were likely to choose environmentally friendly packaging or called ecopack, a 29 percent increase over 2010. Half of the shoppers polled said they were willing to pay more for sustainable packaging ... and a quarter of the shoppers said they have switched brands for more eco-friendly packaging."

This proves that consumers are responding to green initiatives with their money. I believe it's a positive consumer trend, one that signals the growing environmental consciousness of shoppers across the nation and all over the world.
So Pi sustainable packaging company launched eco friendly packaging concept for luxury jewelry packaging. Such as the following jewelry packaging boxes |: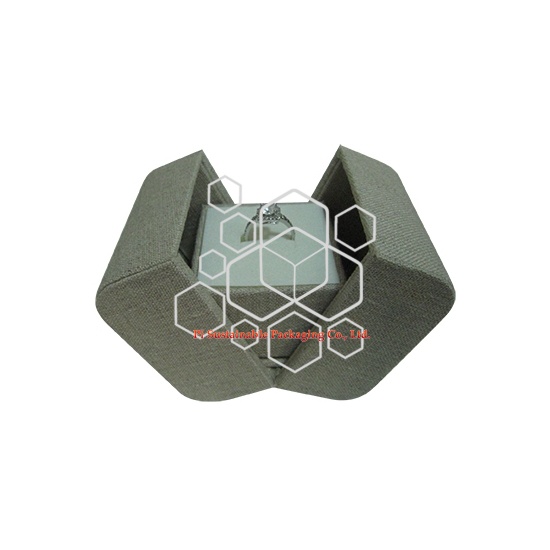 it is wrapped by natural cotton fabric and wooden jewelry boxes block. We demonstrate the jewelry luxury but in eco friendly manners. It will win the favor of shoppers who are concious of enviromental protection. As the whole luxury product packaging boxes are biodegradable and compostalbe after disopsal, it is close to nature, is made of material from nature and renewable annually, it will return to nature at the end of product life cycle.
Prev: Luxury packaging award in 2014
Next: Case analysis of custom unfinished wooden wine bottle retail packaging box