High-Quality And Attractive Luxury Jewelry Packaging For Better Branding
May 08,2023 | Views: 55
Are you looking for a way to enhance your brand and make your jewelry business stand out in a crowded market? Look no further than luxury jewelry packaging! Not only does high-quality packaging make your products more attractive to customers, but it also helps to create a lasting impression and increase brand recognition.
At our jewelry packaging company, we offer a range of customization options to ensure that your packaging perfectly matches your brand identity and product offering. From the material used to the shape and color of the packaging, we can work with you to create a truly unique and eye-catching design.
Our packaging materials are natural and stylish, including options like wood and cardboard. We also offer eco-friendly options for those looking to reduce their environmental impact. One of the key benefits of luxury jewelry packaging is the ability to customize and enhance the packaging with additional features. Additionally, features like LED lights can further enhance the luxury and high-end feel of the packaging. These features can take your packaging to the next level and make your products even more desirable to customers.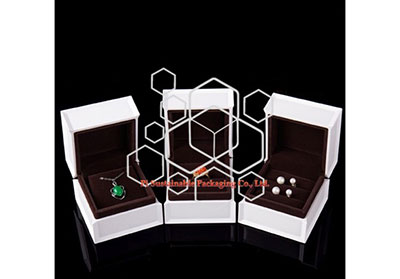 Our packaging solutions are available in bulk or limited quantities, and we pride ourselves on delivering high-quality products on time and without defects. You can trust our certified industry experts to create packaging that perfectly matches your specifications and enhances your brand.
Investing in luxury jewelry packaging is a smart and effective way to elevate your brand and make your products stand out in a competitive market. Don't settle for generic packaging – choose luxury jewelry packaging and create a lasting impression with your customers.
Don't hesitate to contact us today to learn more about our luxury jewelry packaging options and how we can help enhance your brand.
Prev: Classification of Modern Paper Products
Next: Benefits of Cosmetic Packaging Boxes Wholesale