Secondary Packaging
Product Details
eco friendly wooden cosmetic packaging boxes design for serum or essential oil:
MOQ:3000pcs;
Wooden serum packaging boxes,design idea: Natural and organic beauty packaging design,eco friendly cosmetic packaging,luxury cosmetic packaging,user friendly design concepts are mixed into essential oil packaging boxes design. First of all, original ecological wooden texture blow green and fresh wind to your target clients softly. Secondly, the alive hinge allow your end consumers to flex wooden cosmetic boxes,lid slightly, the flexibility of lid looks like serum or essential oil function to skin, which enhance your skincare product advantage and brand core value. Original innovative beauty packaging design,is also able to link to your innovation in ingredient development immediately.
Cosmetic packaging,material and craft: pine wood cosmetic packaging boxes,convince your potential consumers of that your cosmetic is refined from natural resource. You are allowed to apply other kind of wood to your cosmetic packaging boxes, such as walnut wood, rose wood etc.The unique and natural wooden texture is also considered as excellent factor to compose of luxury cosmetic packaging. Meanwhile, your own brand can be engraved on the flexible lid by laser, or silkscreen printing. So that you are able to cultivate natural and healthy seed inside of your end consumers' heart deeply. After repeating stimulation to your potential customers' heart and intelligent, you will win their favor and build natural and organic brand image. Additionally, original ecological wooden cosmetic boxes,can be biodegradable and compostable after disposal, it will become soil/water/air at the end of their life cycle and become the fertile of plant, which become the raw material to refine natural and botanical cosmetic ingredient. Here is original ecological bamboo cosmetic boxes,your review: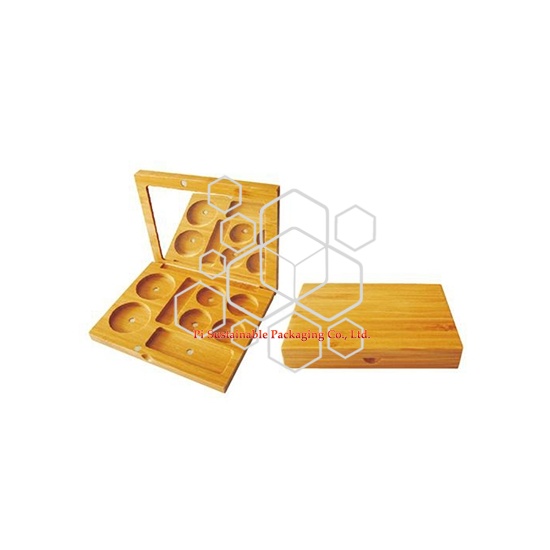 Custom cosmetic packaging solutions: cosmetic boxes,are always able to be customized as per specific demand: such as dimensions/shape/color/material/logo printing etc thanks to custom cosmetic packaging solutions. So that you are able to differ your beauty brand from your competitors easily. Meanwhile, customization is also one of best marketing tool to enhance your cosmetic product specific value. Additionally, custom packaging solutions also entitle wooden cosmetic boxes,to become chocolate boxes packaging,wooden wine boxes,food packaging,etc.