What is the best packaging for jewelry business?
Nov 07,2023 | Views: 35
The best packaging for a jewelry business depends on your brand, target audience, and the type of jewelry you sell. Packaging plays a crucial role in the overall customer experience and can enhance the perceived value of your products. Here are some considerations to help you choose the right packaging for your jewelry business:
Branding:
Your jewelry packaging should reflect your brand's identity and values. Consider your logo, color scheme, and overall aesthetic.
Custom jewelry packaging
with your brand's logo and name can make a strong impression.
Type of jewelry:
The type of jewelry you sell, whether it's fine jewelry, costume jewelry, or handmade artisan pieces, should influence your packaging choice. For example, fine jewelry might benefit from elegant and
luxury jewelry packaging
, while artisan jewelry may align better with eco-friendly and handmade packaging.
Materials:
Consider the materials you use for jewelry packaging. Common options include paper, cardboard, fabric pouches, velvet boxes, or wooden boxes. Choose materials that complement your brand and product quality.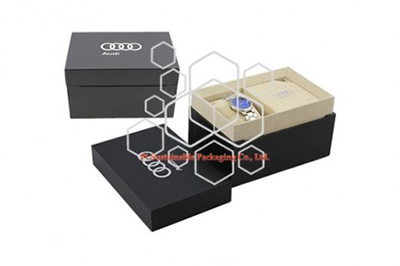 Durability:
Ensure that your jewelry packaging can protect the jewelry during transit and storage. Jewelry should be secure and not prone to damage. Soft materials like velvet or fabric pouches are suitable for delicate items, while more robust materials like rigid boxes are better for sturdier jewelry.
Presentation:
The way the jewelry is presented matters. Use inserts, trays, or compartments to hold the jewelry securely. Consider using tissue paper, ribbons, or decorative elements to enhance the unboxing experience.
Size and dimensions:
Make sure the jewelry packaging is appropriately sized for the jewelry. Avoid excessive or oversized packaging, as it can increase shipping costs and waste.
Eco-friendliness:
Many consumers appreciate sustainable and eco-friendly packaging. You can choose recycled materials, biodegradable options, or reusable packaging to appeal to environmentally conscious customers.
Customization:
Custom packaging with your brand's logo and unique design can set your business apart. However, this can be more expensive than using generic packaging.
Cost considerations:
Balancing your budget with packaging quality is essential. Custom packaging can be costly, so you may need to find a compromise that meets your needs.
Practicality:
Consider how easy it is for customers to open and close the packaging. Difficult-to-open packaging may frustrate customers.
Shipping requirements:
If you sell jewelry online, think about how your jewelry packaging will impact shipping costs. Bulky or heavy packaging can increase shipping fees.
Ultimately, the best packaging for your jewelry business should align with your brand, product, and target audience. It should also enhance the overall customer experience and protect the jewelry while being cost-effective. You can experiment with different options and gather feedback from customers to refine your packaging choices over time.
Prev: Dazzling Delights: Unwrapping the World of Luxury Jewelry Packaging
Next: What is the best material for cosmetic packaging?