Jewelry Packaging
Product Details
luxury ring jewelry packaging boxes:
MOQ:1000pcs;retailing without customization is available;
Jewelry packaging design concepts: luxury jewelry packaging,user friendly packaging concepts are blended into jewelry packaging boxes,design. Diamond model shape will make jewelry lovers associate your jewelry quality with diamond grade. Meanwhile, multiple faces of diamond shape plus glossy painting decorate your diamond ring and bring more shiny to your brand. LED light set on jewelry gift boxes with lids, bring more convenience to end consumers to check your jewelry. Jewelry packaging, applied LED light for reference: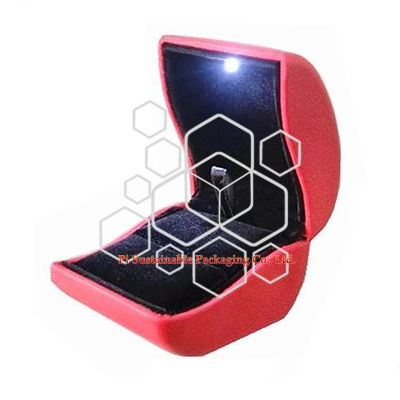 Jewelry packaging boxes structure: ring jewelry boxes lid linked to base by metal hinge. Strong snapping sound created by metal hinge matching with excellent snap-fit and rigid shape are formed of key marketing elements to trigger your potential clients make purchasing decision. When they open your jewelry gift boxes lids, they can feel your luxury quality via tactile sense. After jewelry boxes open, LED light focus on your shinny jewelry, so that your jewelry will be more eye-catching.
Luxury jewelry packaging material and craft: plastic ring jewelry packaging boxes,core create steady and high end feeling, rubber painting enhance shiny effect of surface. Khaki flocking fabric applied to luxury jewelry packaging boxes,liner reflect considerable care to protect precious jewelry from scratching. Your logo can be custom printed on jewellery packaging boxes. So that you can broadcast your jewelry brand.
Custom jewelry packaging solutions: If your order quantity can meet customization MOQ, shape/dimensions/material/color/printing and post printing craft etc are all allowed to customized thanks to custom jewelry packaging,solutions and design. For example, we are able to paint white jewelry packaging boxes,or red as following image: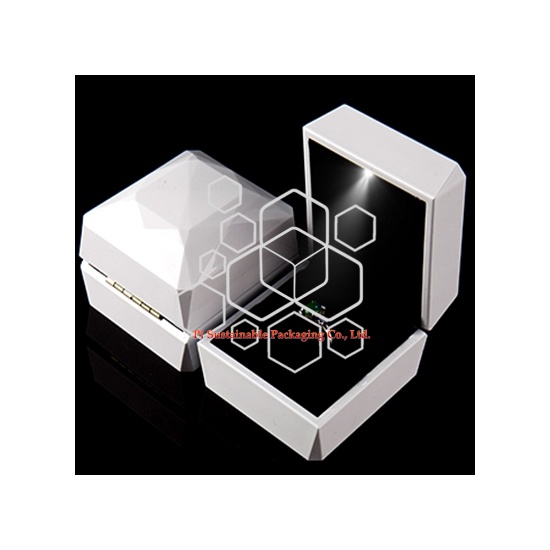 When we enlarge dimensions of ring jewelry gift boxes, it can also become luxury necklace jewelry packaging boxes,as below: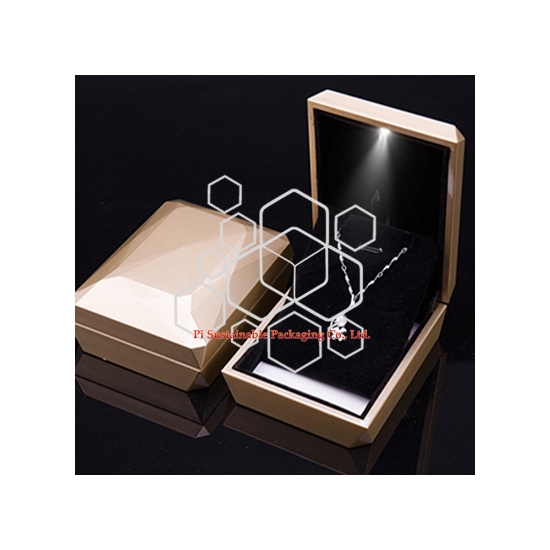 Additional value: Pi sustainable packaging company is a leading jewelry packaging solutions provider, whose advantage is not only provide luxury jewelry packaging boxes, but also original innovative jewelry packaging design, which aim to help you build luxury jewelry brand image and drive your jewelry sales volume as well as profit grow steadily for a long term.