Cosmetic Packaging
Jo MALONE eco-friendly cosmetic paper fragrance packaging boxes wholesale
Luxury beauty product packaging display,but respect sustainable packaging idea & eco-friendly packaging idea. Make ladies associate the luxury, natural, eco-friendly image of cosmetic boxes with the quality of your cosmetic content.

Product Details
Jo MALONE eco-friendly cosmetic paper fragrance packaging boxes wholesale ,:
MOQ:1000pcs;
Custom cosmetic product packaging concept: Sustainable packaging idea,eco friendly cosmetic packaging concept,luxury cosmetic product packaging concept display.
Fragrance packaging material & production craft: fancy paper+recycle grey board, printed by eco-friendly ink. All materials are 100% biodegradable & compostable. Sustainable packaging idea has been taken into consideration during all material selection, meanwhile, the cosmetic display in luxury way. Logo are printed in black over light yellow background. All the color tone are designed to satisfy the feminine taste and black logo popularize client's brand identity widely.
Perfume packaging Structure: lid & base structure, when you lift the lid, the cosmetic will display in front of you elegantly. Here is another lid and base perfume packaging boxes for luxury perfume brand: COACH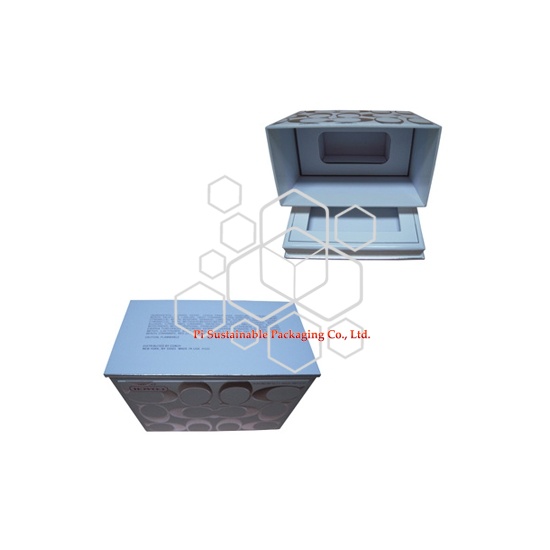 Custom cosmetic product packaging solutions: This only shows that custom cosmetic packaging solutions are able to achieve famous cosmetic brand Jo MALONE's quality level. Material selection, packaging boxes structure design,shape model design,printing and packaging craft application etc are bespoke.
Application: protect glass or plastic cosmetic jars in safe condition,demonstrate your luxury cosmetic in visual and tactile sense,brand marketing,build the responsible enterprise image for nature, healthy, sustainability.
Added-value: Pi sustainable packaging is very professional to integrate sustainable packaging idea,eco-friendly packaging idea,natural & bio concept,luxury product packaging concept,into cosmetic product packaging. Our original innovative packaging design will make your cosmetic or perfume or fragrance or skin care different from your competitors, drive your value of cosmetic appreciate and transfer the natural, healthy, eco-friendly, sustainable value to end-consumers. Cosmetic packaging boxes,are able to bring more value than product protective packaging.