Jewelry Packaging
Product Details
Diamond shape luxury necklace custom jewelry packaging boxes design:
MOQ:1000pcs; please check with marketing team if retailing is available or not without logo;
Jewelry packaging design concepts: Diamond necklace jewelry deserve to diamond shape luxury jewelry packaging boxes design concept. So that luxury diamond value can be manifested. User friendly jewellery packaging boxes design concept is able to make public audience feel comfortable and respected to watch your luxury jewelry display: LED light shot at your diamond necklace, so that your potential clients are allowed to learn more detail about your diamond quality. Additionally, rose golden is considered as another one luxury jewelry packaging design factor which is adopted to create precious and royal atmosphere.
Necklace jewelry packaging boxes,structure : lid linked to base jewelry boxes structure is connected by strong snapping metal buckle.The strong snapping buckle effect transfers diamond shape luxury necklace jewelry boxes feeling via tactile sense. The inner insert of necklace jewelry is allowed jewelry sales and buyers to adjust the angle to fit to the direction of LED light.
Luxury jewelry packaging material and craft:
Plastic jewellery packaging boxes block is painted by glossy rose golden color. Diamond shape plus rose golden surface are combined together to achieve luxury jewelry necklace display. Meanwhile, you are also allowed to custom printed your own brand onto the glossy rose golden surface. In a result, your brand propagation will be conducted along with your luxury jewelry packaging boxes display in your jewelry booth or your franchise stores. Here is the picture shown you custom printed diamond shape jewelry packaging boxes: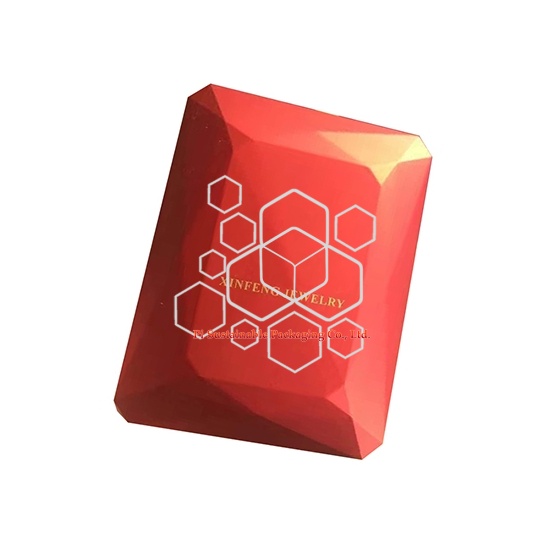 The following pictures show you another kind of printing craft applied to custom jewelry packaging boxes series: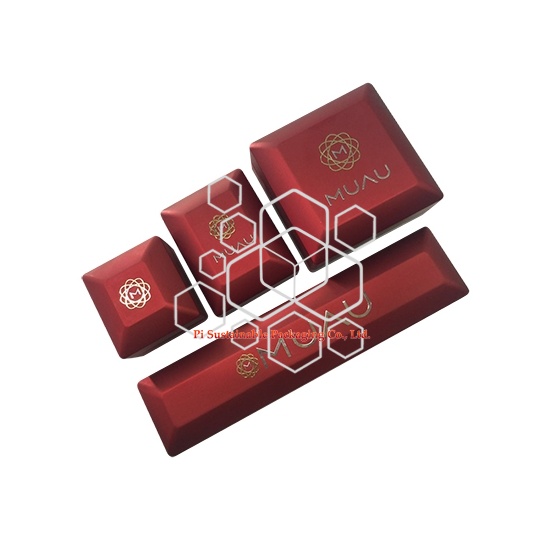 LED light is set at the lid of jewellery packaging boxes, it is convenient for you to magnify the shiny value of your diamond embedded inside necklace or pendant. The inner tray is custom made of soft touching flocking fabric, the aim is protect your precious necklace jewelry from scratching during transportation. This point also manifest the considerable jewelry packaging design to respect end consumers'concern. The finger tab made of khaki ribbon is another user friendly jewelry packaging design concept, which is convenient for end consumers to lift your necklace and adjust the height or angle fit to LED light direction.
Custom jewelry packaging solutions:
If you would like to build your own luxury jewelry brand, you need our custom jewelry packaging solutions and original innovative jewelry packaging design to differ your jewelry and brand from your competitors. You are allowed to select multiple colors, such as white diamond shape ring jewelry packaging boxes which represent holy and pure love: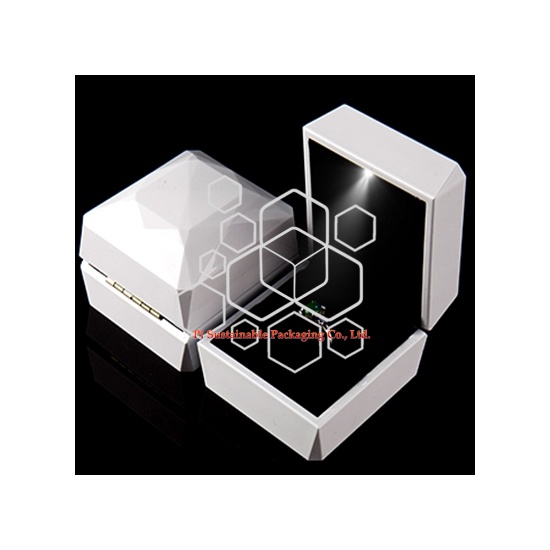 Furthermore, you are also allowed to personalize different shape for your necklace jewelry boxes: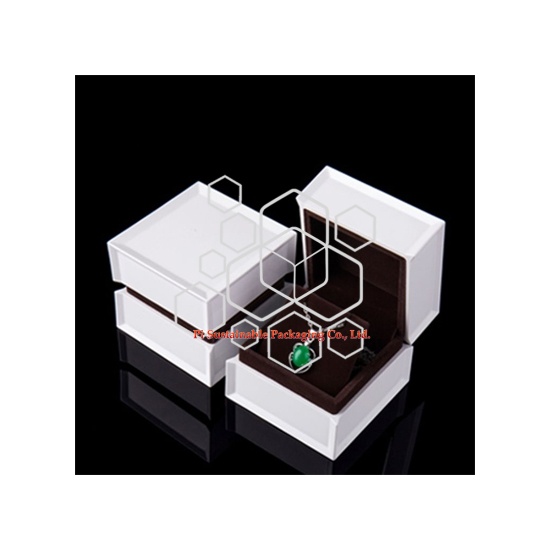 Meanwhile, if all of our existed jewelry packaging boxes shapes can not be suitable to display your luxury jewelry, then we can generate original innovative jewelry packaging design as per your specific demand. Thanks to our custom jewelry packaging solutions, you can also select multiple different jewelry packaging materials, multiple printing and post printing crafts applications. Here is the picture shown you custom jewelry packaging made of original ecological bamboo or wooden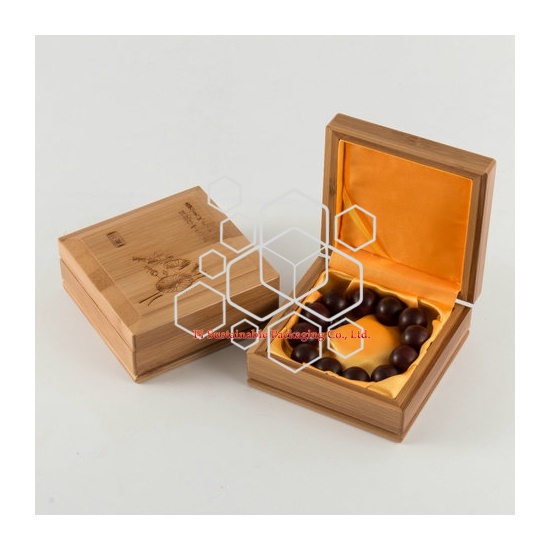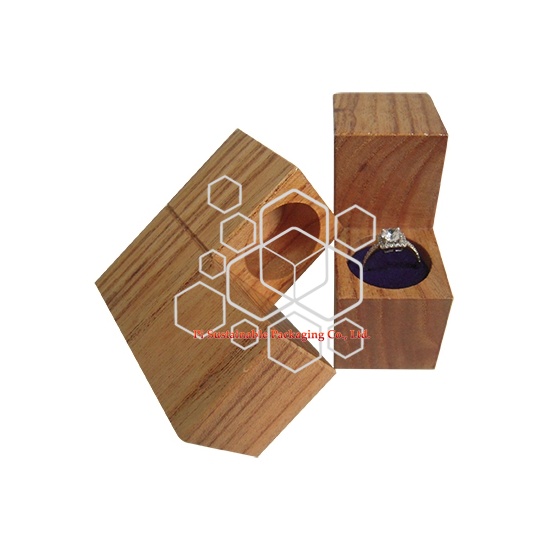 Anyway, the final goal is set your jewelry and brand be distinguished easily at the first glance by public audience.
Added value:
Pi sustainable packaging company is a leading custom jewelry packaging suppliers in China, who has rich experience to create original innovative jewelry packaging design, multiple jewelry packaging material application: wooden jewelry boxes, bamboo jewellery packaging boxes, leather or fabric or fancy paper jewelry boxes etc. The following image is luxury jewelry packaging boxes customized of flax fiber: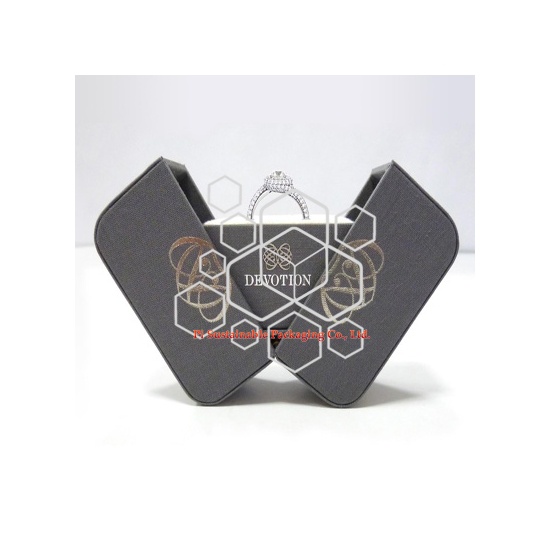 This point will enhance your purchasing efficiency as you don't need to purchase jewelry packaging from different jewelry boxes factories who is only able to make one kind of jewelry packaging material. Additionally, our wide range jewellery packaging boxes selection is able to keep your jewelry packaging and display style be same for all your jewelry items: from ring jewelry packaging boxes, necklace jewelry boxes, bracelet jewellery packaging boxes etc. Here is ring jewellery packaging boxes which is also created in diamond shape: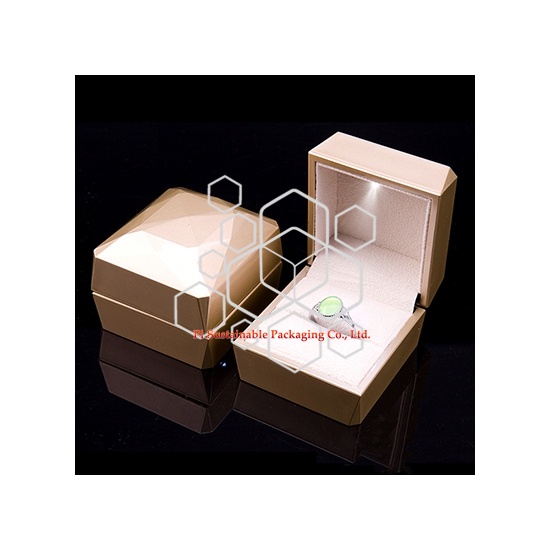 You can also enjoy one stop service from design, sample development, mass production to logistic, and don't need to be worried about the misunderstanding between jewelry packaging design companies and different jewelry packaging boxes suppliers.