Pen Packaging
Product Details
Custom made luxury pen packaging gift boxes for Parker:
MOQ:1000pcs;
Custom pen packaging concept: luxury pen product packaging concept display.
Luxury pen packaging,material and production craft: silver foil paper is a great choice for luxury pen packaging, plus pen plastic boxes block,and snapping feeling all aim to build the luxury pen packaging,and upgrade your pen brand to luxury level.Rigid gift boxes appearance match with the soft touching satin fabric as liner, rigid and flex feeling rich your pen packaging contents. Hot stamping is applied to logo on top of luxury pen boxes lid,and inside of pen gift boxes lid. Custom printed pen boxes with your logo is a key factor to popularize your brand. When you sell your pen, you also promote your brand moreover. Black luxury pend packaging boxes base make your pen look steadily, black base matching with white lining and light lid avoid dull looking.
Luxury pen packaging boxes structure: lid is linked to base by metal hinge with snapping feeling. Here is pictures shown another one luxury pen packaging,which apply lid linked to base structure for your review: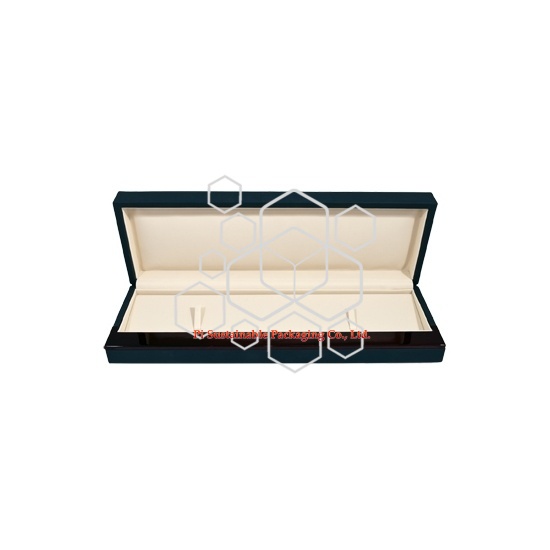 Custom pen packaging solution: Pi sustainable packaging is the professional pen packaging boxes suppliers, who offer you one stop service for custom pen packaging solutions,via luxury pen packaging material selection,pen packaging boxes design,for structure and graphic as well as brand identity design, custom printing and post printing craft application, handmade craft proposal etc. luxury pen packaging boxes for Parker is a successful story of our custom luxury packaging solutions for pen.
Application: magnify your pen value and attract more eyes to view your pen, promote your pen brand to luxury brand and end-consumers are willing to pay more for your pen, protect your pen from damage during transportation, beautify your pen display.
Add value: one stop service of custom pen packaging solution: packaging boxes model shape design,packaging boxes structure design,graphic design for pen gift boxes,multiple luxury pen packaging material selection,elegant handmade craft and so on, makes your pens out-standing and achieve differential competition and bring wow-elements to shopping experience. The following luxury innovative pen packaging design,is an excellent case to shown our advantage in pen packaging design and multiple packaging design concepts.