Ecopack
Product Details
Custom l
uxury mens jewelry display packaging boxes
custom jewelry packaging concept: luxury packaging concept for luxury jewelry packaging, present jewelry in precious way.
Packaging box structure: creative clamshell structure which is inspired by shape of clamshell, the ring is delivered by nature and imply the nature lovers for ever. Meanwhile, the heart shape jewelry packaging boxes after opening will enrich your jewelry functions: love expression.
Material: plastic jewelry packaging gift boxes is made of plastic block and wrapped by flax fiber fabric. Jewelry boxes block can also be made of recycle grey board, or wooden to achieve sustainable packaging concept. create the soft touching feeling and romantic atmosphere. material selection is bespoke, so paper jewelry gift boxes,leather jewelry gift boxes,wood jewelry gift boxes,wooden jewelry gift boxes,leather jewelry gift boxes,and so on are available. When wooden jewelry packaging boxes,block are wrapped by flax fiber fabric, then luxury jewelry packaging,will be wore eco friendly jewelry packaging,fashion. Here is the picture shown more detail for your review: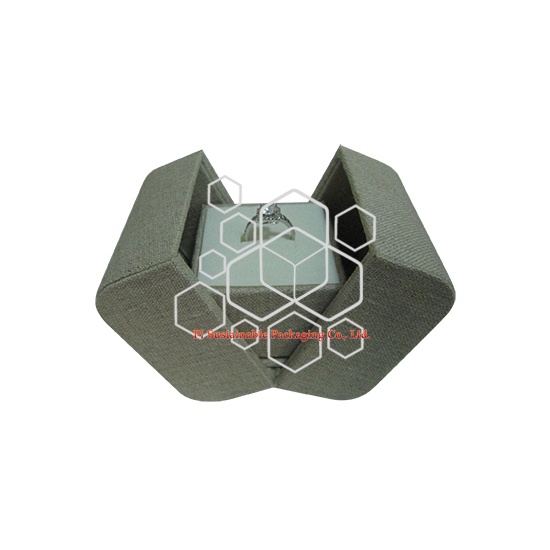 Production processing: gold stamping, silver stamping, silk screen printing are available, we can apply your own logo to custom printing jewelry box.
Color: the color of exterior material & linning can be bespoke too. So we can produce black jewelry box,pink jewelry box,and so on.
Dimensions: the dimension of small jewelry presentation box,can be custom made, so we can make large jewelry display boxes as per your specific requirement.
Application: This custom jewellry packaging boxes can be applied to earring, ring, necklace and so on. So it is also called handmade ring jewelry box,personalized earring jewelry box,necklace jewelry box,etc. It also fit for men, women, girls,jewelry boxes for women, mens jewelry box,girls jewelry box,jewelry boxes for girls are its by name. Due to the creative structure, elegant handmade craft, your jewelery will be promoted & display in luxury way, so we also call it jewelry gift boxes wholesale,jewelry display box wholesale,jewellry presentation boxes wholesale.
Brand: this unique jewelry box,is packaging for famous jewelry brand: Devotion.
Added-value: this unique jewelry boxes,personalized jewelry box,will make your jewelry different from your competitors and upgrade your jewelry & your prestige brand. This luxury custom jewelry packaging boxes will also make your customers be respect highly.